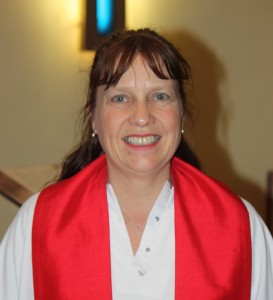 Rev. Rosalie Rayment-Hewitt came to Shepparton as the Minister of the word for the South Shepparton Uniting Church in 2008. With the combining of all the Shepparton Uniting Churches in November 2009 she became the Minister of the Word to the Shepparton Uniting Church.
Rosalie originally trained and worked as an Occupational Therapist. Following completion of studies in Theology she worked for 11 years with the Church in Thailand. Rosalie was ordained in 1988. Prior to coming to Shepparton in 2008 she ministered with the Koornang Uniting Church Parish in Melbourne.
Pivotal to her ministry is a desire to see people's lives transformed by the power of Christ, finding new hope and strength in the midst of their daily lives, and seeing people grow in their faith and living out their discipleship of Christ in ways that brings the healing, saving, redeeming presence of Christ to the wider community.
Rosalie is married to John and together they have sought to offer a home to children through Foster Care programs.