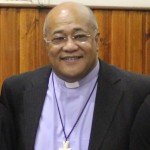 Rev. Loni Vaitohi
Loni has arrived to the Shepparton area as minister of the word for Shepparton Uniting Church as well as the Rural congregations of Dookie, Katandra West, Pine Lodge and Kialla West.
Loni, born in Tonga, was meant to work in Tonga for the government (fisheries and environment) as part of the conditions of his 4 year scholarship to Auckland University, New Zealand. Instead he ended up in Sydney, Australia where he met his future wife Moti before moving together with their family to Melbourne. These early years in Loni's life could be described as "a path of self destruction".
It was in Melbourne after a life evaluation that he decided to candidate for the Ministry self funding his education as a bouncer at pubs and night clubs.
Since his ordination Loni has ministered in the congregations of: Lowan, Yarrawonga, Canterbury and Diamond Valley.
Loni challenges us to relearn what it means to be a community of faith- "Let's be a community genuine in our relationship".
Loni and Moti have four children and together welcome all into their lives and family.